CRONOS® plus Sensor equals…
Free Chlorine Analyser (HaloSense)
Total Chlorine Monitor (HaloSense)
Chlorine Dioxide Analyser (DioSense)
Ozone Monitor (OzoSense)
Dissolved Oxygen Meter (OxySense)
Suspended Solids Monitor (SoliSense®)
Turbidity Meter (TurbSense®)
Streaming Current Monitor (StreamerSense)
pH Analyser (pHSense)
ORP Analyser (ORPSense)
Organics Monitor (UV254Sense)
Online Conductivity Monitor (ConductiSense)
Particle Counter (CounterSense)
Filter Monitor (FilterSense)
Fluoride Monitor (FluoriSense)
Pool and Spa Controller (AquaSense)
External inputs
Choose from Standard Configurations or 'Build Your Own'
For each sensor the CRONOS® will prompt users through calibration procedures and will remind them when maintenance is due for each sensor type.
The CRONOS® is often used in applications where the remote access capability of the CRIUS® is not required. This doesn't mean that a CRONOS® doesn't have the capability of control! With full PID control, the CRONOS® is often used in application areas such as:
Water Treatment
Drinking Water
Waste Water
Pool and Spa Control
Industrial Water
Food and Drink
Paper and Pulp
The CRONOS® is a universal controller capable of outputting a PID control signal via an analogue (4-20mA) or a pulse width modulated relay (to control for example, an on/off pump). With the latest in communication options the CRONOS® is capable of running Profibus, Modbus or TCP/IP via Ethernet.
The ability to provide maintenance reminders is very attractive to larger users with multiple operators where it can be easy to miss scheduled maintenance.
The CRONOS® can also come in a multitude of languages making it suitable for use in any market.
Customers requiring additional functionality such as downloadable datalogging or remote access via the internet should consider the CRIUS® controller.
Focus Ons are a series of short articles distributed by email providing technical information regarding instrumentation, process measurement in potable, waste, process and pool waters. If you would like to join the mailing list, please contact us.
Pi's New Controllers – Top Ten Innovations
If you have used a Pi controller you will know that they give you unrivalled control options but did you know that Pi's new controllers also offer individual security for up to 20 named individuals? Pi's controllers have always given flexibility but did you know that Pi's new controllers can accommodate up to 16 sensors of any description?
This Focus On describes the 10 most popular innovations to be found in Pi's new CRONOS® and CRIUS®.
No. 1 – Human readable service log
Both the CRONOS® and CRIUS® analyser/controller has a downloadable human readable service log – giving an entire history of the instrument including current settings, calibrations etc. Provides a great snapshot of how an engineer left an instrument.
No. 2 – Cloning facility
Ever had to set up many instruments with the same settings? Simply set up one and copy it to others!

No. 3 – On screen wiring diagrams
Lost the manual or can't be bothered to find it? Pi's analysers have the answer!
No. 4 – Want a bit more info on what's going on with a sensor?
Pi's new sensor maintenance pages are just for you then! Detailed information about all aspects of the signal coming off the sensor clearly available.

No. 5 – Instrument datalogs not quite giving you what you need?
Pi's new look datalogs in CRONOS® and CRIUS® (downloadable) let you datalog almost everything, put graphs on the display, datalog the same parameters at more than one interval and a whole lot more. Never has instrument datalogging been so easy and complete.
No. 6 – New enclosure
The new enclosure brings a new level of flexibility being wall mountable, pole and handrail mountable and even flush mountable. Not only that, but it gives you loads of room to work in and there are even spare live, neutral and earth terminals to make wiring relays easier!
No. 7 – Not enough I/O?
Don't worry, simply daisy chain 4 CRIUS® together and you can use the same display, comms options etc. and increase your I/O fourfold to give up to 16 sensors.
No. 8 – Bored of reading about stuff in manuals that you don't have?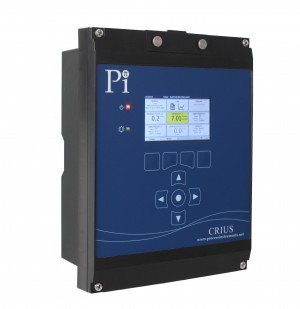 Pi's new manuals are bespoke to each instrument. The manual is 'built' to match each individual instrument so the manual only has what you have!
No. 9 – Has the operator been messing with settings they shouldn't?
No more! With 20 individual user settable logons, you can give people access to what they need and no more.
No. 10 – Control algorithms
Pi has developed a reputation for developing great control algorithms and this has continued with the new CRONOS® and CRIUS® with the introduction of feed forward control algorithms and a master controller which selects the correct control philosophy to use (for use with complex systems such as coagulation control).
You probably know that Process Instruments offers a cloud based remote access service for our CRIUS analyser, but did you know that…
…nearly everything you can do in front of the analyser you can do remotely?
…we have been working closely with our customers to bring you an even better service?
…a lot of our customers have seen the number of engineer callouts drastically reduce, saving them time and money?
Pi's sleek and modern Remote Access solution
Pi has always been a leader in developing new technology and have had a remote access system for over 10 years! The latest iteration of remote access is now a key part of our solution toolbox. Here are some of the features of our remote access:
User interface – The interface mimics the analyser, making the data and other features easy to find. Anyone already familiar with the CRIUS® analyser will already be familiar with remote access. Anyone requiring training can now be trained remotely using remote access and Skype.
User control – Each user has their own customisable access rights for what they can view and change on the analysers. This is set by the 'parent' user.
Speed – The service now runs around 50 times faster than its predecessor, allowing users to connect and download the current sensor values and settings in under 30 seconds (test performed on CoagSense coagulation controller with 27 different devices such as sensors!).
Reduced data costs – By making the connection between the server and analyser more efficient, Pi has reduced the amount of data required for nearly all tasks thereby significantly reducing costs.
Customer branding – On request, Pi can brand the remote access theme to promote a customer's brand.
Data analysis – The graphical interface is a powerful and flexible tool for viewing your sensor data. The way we handle your analyser's data means that every single data point is stored in the cloud, allowing a user to download 3 months' worth of data with a single click.
Password reset – If a password has been lost or forgotten, a user can enter their email address into the password reset function which will then email a list of instructions on how to reset it.
Data limit – Users can now limit how much data each analyser can use per day, meaning no more unexpected data costs.
So what can Remote Access do for you?
The remote access service has always been designed to save you time and money by allowing you access to the analyser and its data from anywhere in the world. Now remote access can assist as a tool in doing a lot more:-
Remotely checking and changing settings for customers who may not be confident in doing so or who may not have access to the analyser.
Allowing Pi's service team to temporarily remotely connect to the analyser if customers have an issue and are unsure about how to solve it.
Automatically sending daily/weekly reports of data logs and/or status logs to users from the server (no mobile data costs from the analyser).
Easily view when maintenance is required or due on analysers, allowing users to efficiently plan which sites to visit and when.
Know when alarms activate on the unit within seconds by enabling text and/or email alerts direct from the analyser.
Tune control values to optimise dosing without the need to visit the site.
Analyse stored data to investigate incidents, explain issues or validate the process.
Save money by reducing the number of callouts and the number of miles your engineers travel!
But what about security?
When the analyser and remote access cloud server communicate, Pi uses a 'Pre-Shared Key'. This creates a secure connection between the server and analyser. The key acts as a password and without it the analyser will not respond. The key is randomly generated in every analyser making it unique to each, and if required the key can be re-generated from the analyser. The analyser can also be connected directly to a Virtual Private Network (VPN) which blocks unwanted traffic and connections automatically and will only transfer information between the analyser and server.
How does user access work?
Each user has their own username and password. This means that what they see and what they can do can be customised so only authorised users can make changes.
How are the analysers and customers managed?
If a user creates a group, then they become that group's 'parent'. The 'parent' of a group creates the analysers and users for that group. If a user is a 'parent' to more than one group, they will also have the ability to create users that can access multiple groups from a single user account.